An online session of the General Assembly of the UniAdrion Association was held on Tuesday, November 17, 2020, from 17:00 to 18:30.
During the session, the participants discussed the strengthening of ties between UniAdrion member countries as well as the strengthening of the existing trend of increasing the number of joint activities and projects.
Special efforts are being made to create a platform for exchanging information and presenting the network to the wider academic and scientific community.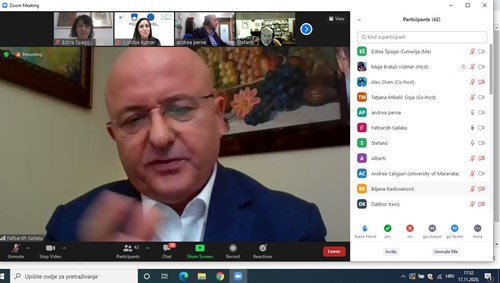 UniAdrion, of which the Džemal Bijedić University of Mostar is a member, is an association of universities and research centers in the Adriatic-Ionian area.
Upon the authorization of the Rector, the University was represented by the Vice-Rector for International Cooperation, Prof. dr. Edina Špago Ćumurija.
Until May 2021, the Association UniAdrion is chaired by the University of Primorska, while the University of Banja Luka is the representative of BiH in the Board of Directors until May 2022.