The 8th international scientific conference "Days of Family Law" was held on November 12, 2020. The conference was organized by the Faculty of Law, Džemal Bijedić University in Mostar, and the German Foundation for International Legal Cooperation (IRZ). The central theme of this year's edition was "Family Law in the Era of Globalization".
Nowadays, the family is facing numerous difficulties and problems to fulfil the assumed functions and the expected role. We are all witnesses to rapid changes in all segments of modern society. They have significant consequences on the situation within the family, its development, role, as well as its position in society. Certainly, the most significant phenomenon of our time is globalization. The focus of the conference was the impact of globalization on the family and the relations within the family.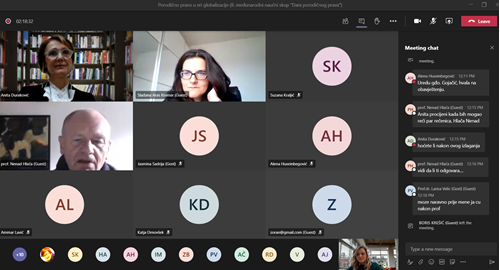 This year's international scientific conference was attended by scientists, teachers, and associates from universities from Mostar, Sarajevo, Tuzla, Zenica, Maribor, Zagreb, Kragujevac, Banja Luka, as well as legal experts (notaries, lawyers, and associates in state/entity institutions).
The gathering was held online, via the Microsoft TEAMs platform, due to the epidemiological situation caused by the Covid - 19 virus pandemic.